As Fernando Alonso rounded the final turn of the sinuous Valencia Circuit to grab victory, he compounded a bumper weekend for Spanish sport and anyone named Alonso. Fernando's footballing namesake Xavi struck two past the hapless French to reach the Euro 2012 Semi-Finals.
For F1's Alonso, victory was particularly sweet. At the start of the season everyone had discounted Ferrari as also-rans after their new F2012's disappointing performance in winter testing. The car was clearly difficult to drive, with Alonso and his beleagured teammate Felipe Massa seconds off the pace.
But thanks to Alonso's brilliance and the unpredictability of the new Pirelli tyres, the Spanish driver has been in the hunt from the start, hustling a recalcitrant car to the top as the main competitors faltered.
His win in Malaysia, where he overcame rain, a lowly grid position and a charging Sergio Perez, was testament to his ruthless competitive spirit. Nowhere was this more apparent than on the streets of Valencia this weekend.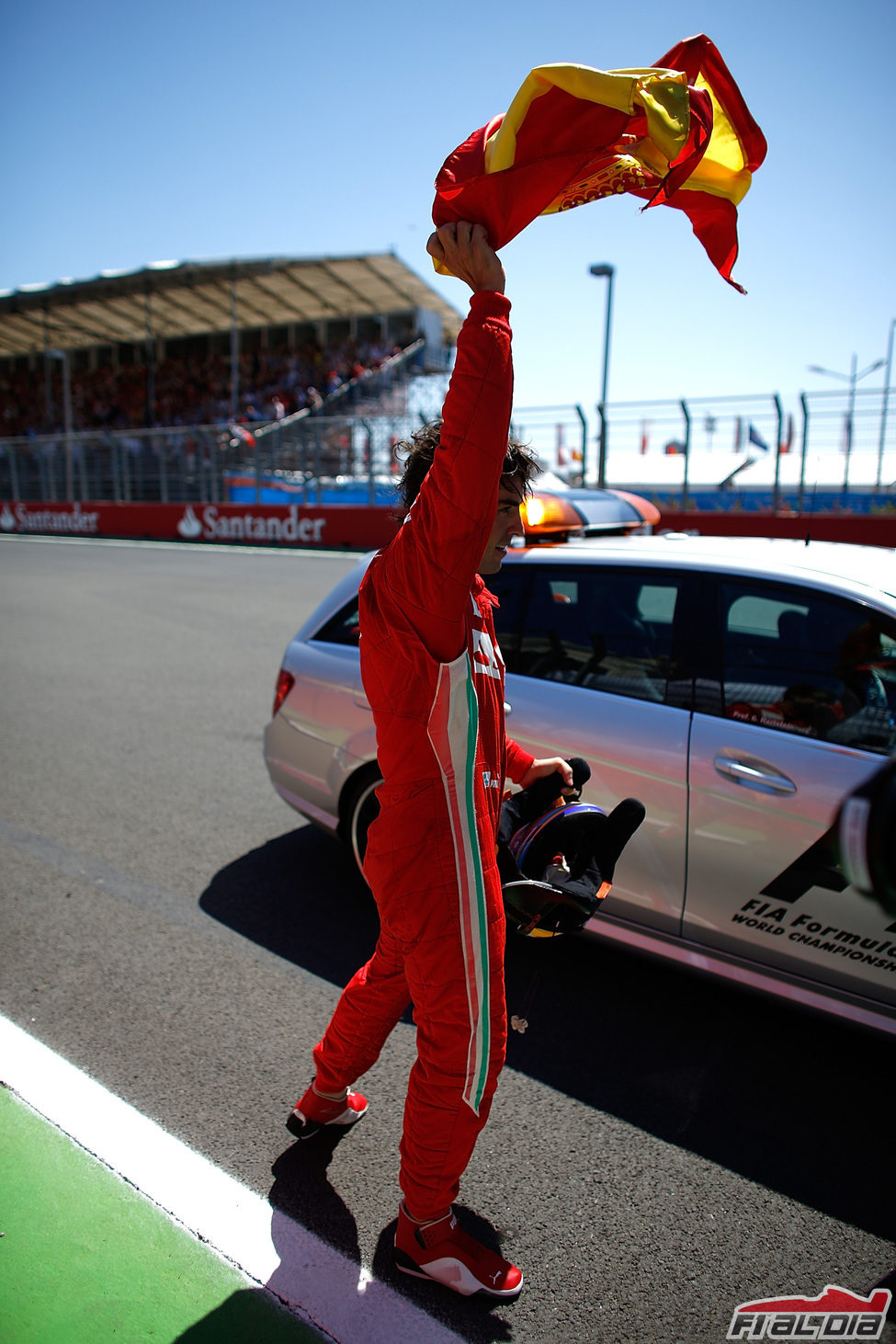 Alonso salutes his adoring home fans
Starting eleventh, he catapulted to 8th on the opening lap and quickly dispatched Hulkenberg and Maldonado. Slick pit-work by the Ferrari team allowed him to capitalise on the misfortunes of both Kimi Raikkonen and Kamui Kobayashi, who lost precious seconds as their teams blundered their tyre changes.
Whilst Sebastian Vettel remained in the lead and continued to pump in quick laps with peerless consistency, Alonso was now in touch with the chasing duo of Lewis Hamilton and Romain Grosjean. A win still seemed unlikely. But suddenly the race was blown wide open.
Backmarkers Vergne and Kovalainen clumsily collided, throwing debris onto the track. Out came the safety car andVettel's 20-second lead was erased. Whilst Hamilton suffered pit-lane woes, both Vettel and Grosjean succumbed to alternator failures as their cars' electronics faltered in the Mediterranean heat.
Alonso claimed the lead and held on for his 29th career victory. Fighting back tears on the podium amid the crowd's deafening patriotic roar, Alonso, like Spain's footballers, looks well-placed to claim another championship.